Durante todo el año recibimos muchos mail, pidiéndonos información para realizar trabajos sobre autómatas. Así que ahora es el momento para recordaros que necesitamos de vuestra colaboración enviándonos los que ya habéis presentado.
Mid-Range Sophistication.
The FP3 Controller Series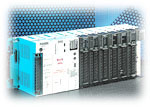 Basic CPUs.

The FP3 is the control system that can be set up particularly flexibly and individually for current requirements. Despite this, it is designed to be able to cope with the increasing and rapidly changing applications of the future.
Further special features:
64 input/output modules
Numerous intelligent modules
Networking via optical fibres, twisted two-wire circuits and coaxial cable
Vertical networking capability with FP0, FP1, FP-M or FP10SH systems
Simple programming with hand programmer or PC
Compatible software
PID software tools
- PID programme module max. 30 control loops (PI-D, I-PD)
- PID operating software Simple parameter definition and mimics of control circuits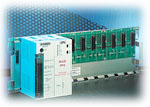 The capacity of your choice.
The FP3 system offers three high-capacity CPUs, which differ in respect of the additional software options. The system becomes even more flexible and high-capacity with the addition of two memory modules - the AFP32091 and AFP32092 - for additional management of 128kWords and 256kWords respectively.
Setting new capacity limits. The compatible FP10SH CPU.
The FP3 control system can be added to – as a whole – at any time if required. Should the capacity of the FP3 CPU cease to be adequate at some time, it can be replaced very simply with the new FP10SH CPU. Intelligent modules or decentralised networks can simply be adapted for this expansion of capacity.
FP3 – Specifications


Performance specifications

PLC type

AFP3210C, AFP3211C
AFP3220C

Control method

Cyclic operation

Inputs / outputs

total: max. 1,536 with remote I/O system: max. 2,048

Programme memory

built in RAM (EPROM and EEPROM optional)
Programme capacity
9,727 steps
15,871 steps

Instructions Basic/High-level

83 / 241 (AFP3210C: 237)
Processing speed
0.5µs/step (basic instruction)
Memory

Internal relay (R)

1,568 points

Timer/Counter (T/C)

256 points
Data register (DT)
2,048 words
File register (FL)
0 to 8,192 words (additional data register, free selectable)
8,192 to 22,525 words

Master Control Relays (MCR)

64 points

Labels (JMP + LOOP)

256 labels

Number of step ladder

1,000 steps

Number of subroutines

100 subroutines
25 programmes (16 external inputs, 8 special units,
1 periodical interrupt)

Periodical interrupt

10ms to 30s

Other functions

password setting

General specifications

DC type
AC type
or

Rated operating voltage

24VDC

100V to 120VAC

200V to 240VAC

Operating voltage range

16.8V to 28.8VDC

85V to 132VAC

170V to 264VAC

Ambient temperature

0°C to +55°C

Storage temperature

-20°C to +70°C

Input specifications

Input type

+/- switching

Rated input voltage

12V to 24VDC

5VDC

ON voltage range

> 9.6VDC

> 3.5VDC

OFF voltage range

< 2.5VDC

< 1.5VDC

Output specifications - Relay

Output type

Normally open (1 form A)

Rated control capacity

2A 250VAC, 2A 30VDC

Output specifications - Transistor

Insulation method

Optical coupler

Output type

Open collector (PNP or NPN transistor)

Rated load voltage
24VDC (12V to 24VDC, 5V to 24VDC available)

Max. load current

0.1A and 0.5A available
| | | |
| --- | --- | --- |
| | Recomendamos | |

¿Te gustaría ver aqui tu publicidad?