Durante todo el año recibimos muchos mail, pidiéndonos información para realizar trabajos sobre autómatas. Así que ahora es el momento para recordaros que necesitamos de vuestra colaboración enviándonos los que ya habéis presentado.
Pico Controller: Perfect for those tasks where a PLC is too much.
The pre-programmed Pico Controller is perfect for those tasks where a PLC is too much and a relay sequence circuit too bothersome.
Features: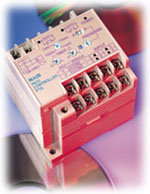 No programming required
Select from among 15 preset patterns
Wiring far simpler than relay sequence circuits
Just wire the power supply, inputs and outputs and you are finished
A wide operating voltage range:
100VAC to 240VAC
A built-in sensor power supply (24V, 200mA)
One-touch mounting to the DIN rails

Applications:
Limit control
Application example: Opening and closing shutters or windows, raising and lowering freight elevators, sliding tables, inching mechanisms.
Mixing control
Application example: Animal feed mixing, grain mixing, fertilizer dispersal, material feeding, and other applications of sequential control
Specifications.


Performance specifications
Type
PICO CONTROLLER
Control method
Cyclic operation
Inputs/outputs
4 inputs / 2 outputs (relays)
Programme capacity
15 programmes pre-defined
(1 programme custom designed possible)
Timer (T)
4 points
4 ranges: 1s, 10s, 1min., 10min.
2 timer setting potentiometers
(pot. 1 for pair T1/T3; pot. 2 for pair T2/T4)

General specifications
Rated operating voltage
100V to 240VAC
Operating voltage range
85V to 264VAC
Sensor power supply
24VDC +/- 10%, 200mA
Ambient temperature
0°C to + 55°C
Storage temperature
-20°C to +70°C

Input specifications
Input type
- switching
Rated input voltage
24VDC
ON voltage range
> 20.4VDC
OFF voltage range
< 4.8VDC

Output specifications
Output type
Normally open (1 form A)
Rated control capacity
5A 250VAC, 5A 30VDC
| | | |
| --- | --- | --- |
| | Recomendamos | |

¿Te gustaría ver aqui tu publicidad?