Durante todo el ańo recibimos muchos mail, pidiéndonos información para realizar trabajos sobre autómatas. Así que ahora es el momento para recordaros que necesitamos de vuestra colaboración enviándonos los que ya habéis presentado.
FP0. Incredibly small, as single or even as multiple combined units.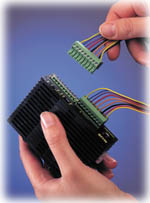 The control unit's dimensions of the new FP0 are W25 x H90 x D60mm. With up to 3 expansion units the FP0 can be expanded to a maximum of 128 points. Even so, the size is still only W105 x H90 x D60mm, a super compact design that breaks all previous common sense rules on small-scale PLCs. With the smallest-ever attachment area, the FP0 is perfect for installation in machines, facilities, and control boards where miniaturisation is progressing even further.

The FP0 offers outstanding performance and flexibility:
| | |
| --- | --- |
| | Flexible configuration from 10 I/O up to 128 I/O |
| | 0.9µs per step ultra fast CPU processing |
| | Large capacity with 2.7k, 5k and 10k memory size |
| | Programme memory uses EEPROM or RAM |
| | Analogue modules featuring 8 input channels or 2 input and 1 output channels |
| | A second RS232 serial port for connection to intelligent devices or modems for telemetry applications |
| | Built-in functions for interrupt processing, high speed counting and pulse output for axis control |
CPU-Modules

Performance specifications

PLC type

FP0-
C10RS
FP0-
C10CRS

FP0-
C14RS
FP0-
C14CRS

FP0-
C16 P/T
FP0-
C16C P/T

FP0-
C32 P/T
FP0-
C32C P/T

FP0-
T32CP/T

Control method
Cyclic operation

Inputs / outputs

total: 10
6 inputs/
4 outputs

total: 14
8 inputs/
6 outputs

total: 16
8 inputs/
8 outputs

total: 32
16 inputs/
16 outputs

total: 32
16 inputs/
16 outputs

Max. inputs/outputs:
same as CPU
mixed (relay / transistor)


58


62


112


128


128

106

110

112

128

128

Programme memory

EEPROM (no back-up battery required)

RAM (battery backup)

Programme capacity

2,720 steps

5,000 steps

10,000 steps

Instructions

Basic 83 /High-level 111

…-level 115

Processing speed

0.9µs/step (basic instruction)

Memory

Internal relay (R)

1008 points

Timer/Counter (T/C)

144 points

Data register (DT)

1,660 words

6,144 words

16,383 words

Master Control Relays (MCR)

32 points

Labels
(JMP + LOOP)

64

255

Number of step ladder

128

704

Number of subroutines

16

100

Special
functions

High speed counter

1 phase / 4 points (10kHz) or 2 phases / 2 points (2kHz)

Pulse output

2 points (output frequency up to 10kHz)

Pulse catch input /Interrupt input

6 inputs (catches pulses of 50µs)

Interrupt programme

7 programmes (external 6 inputs + periodical interrupt)

Periodical interrupt
0.5ms to 30s

Constant scan

available

Other functions
Run time editing, password setting

Real time clock

available

General specifications

Rated operating voltage

24VDC

Operating voltage range

21.6 to 26.4VDC

Ambient temperature

0°C to +55°C

Storage temperature

-20°C to +70°C

Input specifications

Input type

+/- switching

Rated input voltage

24VDC

ON voltage range

> 19.2VDC

OFF voltage range

< 2.4VDC

Output specifications - Relay

Output type

Normally open (1 form A)

Rated control capacity

2A 250VAC, 2A 30VDC

Output specifications - Transistor

Insulation method

Optical coupler

Output type

Open Collector
(P=PNP, T=NPN transistor)

Rated load voltage

24VDC (5 to 24VDC)

Max. load current

0.1A

Expansion unit

Input only type

FP0-E8X
Input 8 points

FP0-E16X
Input 16 points

Transistor output type

FP0-E8YP
Output 8 points

FP0-E16YP
Output 16 points

Relay output type

FP0-E8RS
Input 4 points
Output 4 points

FP0-E16RS
Input 8 points
Output 8 points

FP0-E8YRS
Output 8 points

Transistor output type

FP0-E16P
Input 8 points
Output 8 points

FP0-E32P
Input 16 points
Output 16 points

Analogue Unit


The FP0 analogue input/output unit is a very flexible and hight tech product offering multi-mode and multi-range features. One unit offers 2 inputs and 1 output.

Product
FP0-A21
FP0-A80
Input data
2 channels
8 channels
Voltage mode
0 to 5 V /
-10 V to +10 V
-100mV to +100mV
0V to 5 V
-10V bis +10 V
Current mode
0 to 20 mA
Thermocouple mode
K up to 1000°C, J up to 750°C, R up to 1500°C, S up to 1500°C
Resolution
12 Bit (1/4000)
Conversion speed
for voltage / current
for thermocouple

1msec / channel
560ms

2msec / channel

Output data
No. of outputs
1 channel
Voltage mode
-10V to +10V
Current mode
0 to 20mA
Resolution
12 Bit
Conversion speed
500µsec. / ch.

AC Power Supply FP0-PSA2

| | |
| --- | --- |
| | Input 85 to 265VAC |
| | Output 24 VDC/0.7A |
| | Terminal type |

Networking Units

PROFIBUS

In the PROFIBUS network the FP0 is an intelligent, remote slave and can even continue the control function safely if fieldbus commuication is interrrupted. the FP0 has its own powerful set of commands and operates independently.

MEWNET-F

MEWNET-F is a reduced-wiring remote I/O system that connects the separately located PLCs and I/O slave stations with 2-core cabling. By adding an I/Olink unit to the FP0, you can link master station PLC and FP0 inputs and outputs via the network.

S-LINK CPU

FP0 connects directly to the S-LINK for reduced wiring and simple installation. It can control up to 128 points for S-LINK-related devices. Similar to other FP0 units, up to three expansion units can be used for efficient I/O wiring.
| | | |
| --- | --- | --- |
| | Recomendamos | |

żTe gustaría ver aqui tu publicidad?