Durante todo el año recibimos muchos mail, pidiéndonos información para realizar trabajos sobre autómatas. Así que ahora es el momento para recordaros que necesitamos de vuestra colaboración enviándonos los que ya habéis presentado.
Ultra-High Performance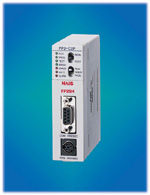 CPU FP2 SH
FP2SH – Espansion modules and special intelligent modules.

A high-performance model for high speed operation
Scanning time of 1ms for 20k steps. With an operating speed at the top of its class, super high-speed processing is made possible. The result is a dramatically decreased tact time and high-speed device.
Large programming capacity of up to 120k steps
Both the large programming capacities of 60k and 120k are available depending on the model.
The building-block type for freedom in the combination of devices
I/O units, intelligent units, powersupply unit and backplanes can be commonly used for the FP2 and the FP2SH. I/O unit can be freely located on each back-plane.
Optional small PC card is also available
The small PC card is available for programming backup or data memory expansion. This allows data processing of great amounts of data.
Buit-in comment and calendar timer functions
These functions, options with the FP2, are built right into the FP2SH.
Performance Specifications

PLC type

FP2-C2
FP2-C2P
FP2-C3P

Inputs/outputs

central: max. 1600 (with 25 modules)
locally expanded: max. 8172 (via MEWNET-F or S-LINK)

Memory

RAM (EPROM or FROM and IC memory card optional)

Programme memory

FP2-C2, FP2-C2P: 60,000 steps
FP2-C3P: 120,000 steps

Number of instructions

basic instructions

95

high-level instructions

434

Operating speed

0.03µs per basic instruction
Memory

timer/counter (T/C)
data register (DT)
file register (FL)

3,072
10,240 words
32,765 words x 3 banks

Master control relay (MCR)
256 (1st programme: 256 points / 2nd programme: 256 points)
Jump labels (JMP + LOOP)
256 (1st programme: 256 points / 2nd programme: 256 points)
Max. main memory
programme steps
1,000

Number of subroutines

100
1

Time interrupt

0.5ms to 1.5s

Other functions

test run operation, forced input/output, interrupt processing, Batch conversion, function for multiple instructions in RUN mode, calendar time, computer link and modem control by the TOOL and COM port, IC card, 2MB SRAM, Flash-EEPROM, ROM operation,
comment input function
| | | |
| --- | --- | --- |
| | Recomendamos | |

¿Te gustaría ver aqui tu publicidad?