Durante todo el año recibimos muchos mail, pidiéndonos información para realizar trabajos sobre autómatas. Así que ahora es el momento para recordaros que necesitamos de vuestra colaboración enviándonos los que ya habéis presentado.
A TRUE OPEN ARCHITECTURE PLC BY IDEC
IDEC introduces a true Open Architecture PLC: the OpenNet Controller (ONC). This unique PLC is compatible with three major industrial buses, DeviceNet, Interbus-S and LonWorks. Expanding your I/O and existing network, or designing a new system to work hand-in-hand with an existing one is now free of compatibility issues. This open network architecture gives users the control to design systems that are more powerful, cost less and provide flexibility as network technologies change.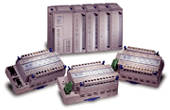 he ONC is a high performance PLC with 16K words user program capacity. The ONC allows the user to store, transfer or upgrade the program memory using a miniature flash card. The ONC can handle up to digital 480 I/O, 42 Analog I/O. The system also allows 512 remote I/O using the Interbus-S network.
DEC's OpenNet Controller offers superior communication flexibility. The ONC comes standard with two RS232 ports, making connections to any RS232C equipment hassle-free. Direct modem dial-up and pager applications are easy, through the built-in Hayes "AT" command set. The CPU is also built with 1 RS485 port and a 10 KHz quadrature High Speed Counter.
The OpenNet Controller is enhanced with 65 advanced instructions including xy conversion, square root and data block move. Multiple PID algorithms make the ONC an exceptional Controller. The ONC has all the features needed in a PLC such as, Real Time Clock, Password protection and catch input functions.
Key Features:
Digital I/O
8, 16, and 32 point cards
480 I/O points with Expansion Power Supply

Analog I/O

| | |
| --- | --- |
| | Up to 42 analog inputs or 14 analog outputs |
| | 0-5V, 0-10V, +/-5V , +/-10V, 4-20m |

Built-In Communications Ports

| | |
| --- | --- |
| | 2-RS232 (programming port, ASCII, printer and modem ready) |
| | 1 RS485 (programming port and data link) |

Built-in High-Speed Counter

| | |
| --- | --- |
| | 2 phase, 10KHz, 16 bit resolution |

Memory

| | |
| --- | --- |
| | 16K User Program Capacity |
| | Flash Miniature Card Slot (FC3A-CP2KM/SM only) |

Realtime Calendar/Clock, Y2K compliant

Password Protection

PID Algorithm
| | | |
| --- | --- | --- |
| | Recomendamos | |

¿Te gustaría ver aqui tu publicidad?