Durante todo el año recibimos muchos mail, pidiéndonos información para realizar trabajos sobre autómatas. Así que ahora es el momento para recordaros que necesitamos de vuestra colaboración enviándonos los que ya habéis presentado.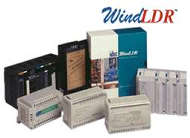 Unique ladder logic programming tool designed to program all IDEC PLCs.




Key Features Are:
| | |
| --- | --- |
| | WindLDR is a unique ladder logic programming tool that combines both logic and intuition. |
| | WindLDR 3.0 programs all IDEC PLCs from the Micro1, Micro3, Micro3C, FA1J, FA2J, FA3 Series to the new OpenNet Controllers. |
| | WindLDR 3.0 presents improved features such as cut and paste, cross reference and program compare. The on-line monitoring is considerably enhanced with new batch monitoring capabilities. THIS EVALUATION DEMO VERSION DOES NOT HAVE ANY COMMUNICATION CAPABILITIES. |
| | WindLDR is shipped with the Tutorial and Reference manuals. The Tutorial manual is designed for both first-time users of Relay ladder logic as well as first time users of IDEC PLCs. This Tutorial manual includes examples starting from basic instructions to powerful advanced instructions. This Evaluation Demo does not contain the manuals, but it includes the online help files. |
| | WindLDR is designed to program all IDEC PLCs, your learning curve for new IDEC PLCs will be very small. WindLDR gives you the power to choose the right IDEC PLC, from the inexpensive Micro-1 for small relay timer replacement applications, to the powerful OpenNet Controller for more complex applications. |
| | | |
| --- | --- | --- |
| | Recomendamos | |

¿Te gustaría ver aqui tu publicidad?